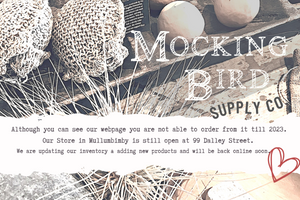 Hi , its lovely to meet you ! Welcome to our online store where you'll find a selection of our favourite pieces.
We offer free shipping for purchases over $160 and afterpay if you prefer to have payments spread over time. We aim to ship out the day after you order and gift wrapping is available !
MockingBird Supply Co.
MockingBird Supply Co is found in Mullumbimby, heart and soul of the the Northern Rivers of New South Wales....if you can't make it to Mullumbimby we hope you enjoy having a look around our virtual store. If you've been into the shop and seen something that we haven't included here then give us a call and we may be able to send it out to you. Enjoy your stay!!